Did you know that parliament is an anagram of partial men? Or, Clint Eastwood an anagram of Old West Action? It was once said, "All the life's wisdom can be found in anagrams. Anagrams never lie."
Below are a few anagrams of the names of our founding members. Try an anagram of your own name, click here!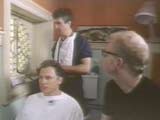 Kenneth prepares to show Ivy his sacred shaving rituals on Doug Doug
Terry -
GREENE FIRST TRY
FEE REST GRIN TRY
FERNERY TEST RIG
FREER GET SIN TRY
FREEST TERRY GIN
ENERGY REST RIFT
Caleb
A CAROB SELL
A CELLAR SOB
SACRAL LOBE
CAB SEA ROLL
CAB ALL EROS
SCAB ALL O'ER
Doug
DUG DUO GO
Kenneth Thith
HE TENTH THINK
THEN THE THINK
shawn
NEWARK SHAWL
SHARK LAW NEW
HAWK SNARL WE
WASH WARN ELK
KLAN SAW WEHR
WALK AN SHREW
Neville
A SEVENTH I QUILL
A TEEN SHIV QUILL
A HE SNIVEL QUILT
A HELL VIE SQUINT
SHAVEN QUITE ILL
HAVEN SELL I QUIT
Nicola
A CYCLIC MOON
CLAM ICY COON
CALM ICON COY
LACY COMIC ON
MAC CLONIC YO
Isaac
A CACKLE I'M SIN
A MALICE SNICK
A CINEMA SLICK
A MCLEAN SICK I
A ISLAMIC NECK
A MANIC SICKLE
Elizabeth
A COBBLE FREEZE WHIRL IT
A COBBLE FLEET ERR WHIZ I
A EBB CREW LEER FILTH I OZ
A BIBLE ZILCH FREE WE ROT
A BIB TORCH FEEL WE'RE LIZ
A BIBLE CREW HEEL FOR ZIT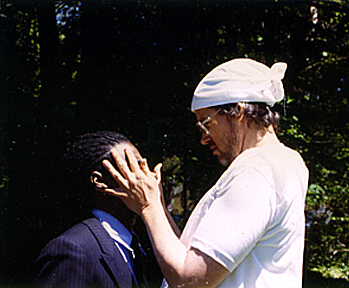 Someone pointed out to me that the names we were using were not very sensitive to other cultures in our land so we ran everyone's names through the Louis Farrakan African Name Generator too! Find out what your name would be on the Dark Continent by going to www.fadetoblack.com and going into the table of contents till you find Mr. Farrakans Name Generator.
More Names
Shawn Walker - Raheem
Terry Festinger - Huggy Bear
Caleb Solar - Malcolm J
Elizabeth Wilberforce -Shausha
Kenneth Thith - Zuwadza
Neville Asquith - Cinque
Doug Doug - Shakwan
Nicola McCoy - Shawasha
Isaac Melnick - Shuakhwe
Then someone came along and sent me an email complaining that the names we used weren't very sensitive to the Mafia. So I had to run everyone's names through a Mafia-nickname generator to come up with acceptable nicknames. My new nickname is "The Jury-Tamperer"
Caleb Solar - The Yak
Elizabeth Wilberforce - Lonely Guy
Terry Festinger - The Funny Moustache
Isaac Melnick - Chimpy Nuts
Doug Doug - The Xerox
Kenneth Thith - The Just
Shawn Walker - The Gimp
Neville Asquithe - The Yodeler
Nicola McCoy - The Butcher, Baker and Candlestick Maker
Ivy Vaughn - The Butcher
[ Home ] [ Names Meanings ]