Cruisin' The Internet
with
Terry Festinger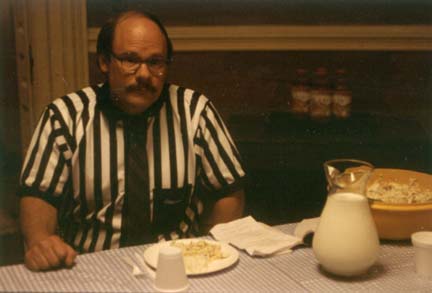 Terry prepares to enjoy a repast of celery, horseradish and macaroni n cheese.
Terry is our resident computer guru, he loves to spend his downtime cruising the net and seeing the sites. We asked Terry to point us to his favorite websites and chatrooms.
www.yahoo.com Best chatrooms on the net, emoticons and smiley faces. Be sure to go into the Adult Chat section and check out the lesbian chatrooms. You can spend hours and hours talking to the most beautiful lesbians on the planet.
www.newgrounds.com A great site for watching bizarre flashware movies and playing odd games. Terry especially loves to play, "Kill Suvivor" and "Postal" but don't tell Caleb, Caleb thinks that most video games are the devil (or Prince Victor)
www.stripogram.com Another site highly recommended by Terry for those long, lonely nights on the compound if you are a guy. Terry wants to make a "special" recruiting trip to Philly now.
www.rotten.com Naked pictures of celebrities and other strange things. Be sure to go into the Daily Rotten site and view the movie of the man and the mule.
www.beastiality.com When a man loves a lesbian that loves another lesbian that loves a horse.
www.fadetoblack.com Lots of strange stuff from porno, porno, porno to interviews with oddballs like Emo Phillips.
www.goregallery.com Be sure to view the amputees naked gallery there, it's eye-opening and informative.
http://www.scienceprojects.net/catalog/affirmat.htmA place where you can get the coolest science projects and kits
http://www.bluecities.com/circle.html a man's best friend in the bedroom and house of ill repute, make em earn that money hard
http://www.montenegrovideo.com/page6.htm some of the most sexy women on earth, a real babalicious fest o flesh
http://www.christiananswers.net/dinosaurs/dinoquiz.htmlA very interesting and informative quiz
http://www.dpf.com My favorite playpen on the planet
http://listen.to/headph0nes More Babelicious Young Things for the imagination
http://www.geocities.com/southbeach/boardwalk/8296/More snorkel cleaning material
http://www.cyberium.net/bnguy/ Beautiful woman that make you feel funny inside


[ Home ]