The Honorable Reverend
Caleb Solar's
Sermon Notes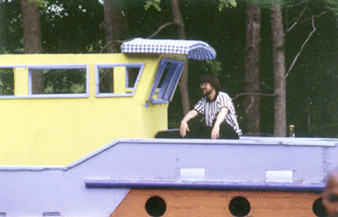 Caleb ponders this week's message
Here are a few notes from Caleb's various sermons that he has given over time to the Divine Order of Faithful Servants. Actually to confess the truth, I am not totally sure that these are notes from his sermons. Seems like I remember him speaking on these subjects during vestigal prayertime but that could be the wine talking. One day when Honorable Reverend Caleb Solar was out recruiting I snuck into his room and rummaged about and discovered this treasure trove of notes beneath the blue furry pillows on his bed. Yeppers, Caleb has light blue fake fur pillows on his bed, they are the color of heaven. . . . . .
As you can see our Most Blessed Reverend has a keen intellect and firm grasp on many different subjects. Click on the subject that interests you to see a transcription of his notes. Enjoy and may the Lord and Holy Caleb enlighten you and broaden your Sacred Understanding and Essential Wisdom. Have a Blessed Day!
More Evidence That Evolutionists are Wrong. . . . .
God's Blessing As Bestowed Upon Men. . .
Why Psychiatry is Evil and Wrong. . . .
Glossary of Religious Mysteries. . . .
Elvis, Levon and that Demon, Rock N Roll
[ Home ] [ Inthebeginning ] [ Lighbulbs ] [ Evolution ] [ Godsnature ] [ Men ] [ Hymns ] [ Shrinks ] [ Catholic ] [ Cajun Commandments ] [ RocknRoll ] [ In Service ] [ Baptism ] [ Random ] [ Santa ] [ ThatsPsalms! ] [ Hell ] [ Bloopers ]